Amore metal stamp font belongs to the category of script fonts that imitate handwritings. The face is decorated by curls, flowers and hearts and has a naïve charm typical to gushing young ladies. It can easily bring to your texts romantic mood, frivolity and summer lightness. I see this font being used on romantic sentiments, spring and summer themes, and anything for Mom and Mother's Day!
Sizes available: 3.5mm, 5.5mm

Shank size: 1/4", 5/16"

Sets available: Uppercase, Lowercase, Numbers, Symbols (02)

Symbols available: Ampersand, Exclamation Point
My Two Cents:
This playful font is absolutely FUN -- and super FEMININE!

The thin lines of this font make it easy to stamp in all sizes in all metals.

I recommend using this font with tape, but it is not necessary!
Amazing Keyrings and Charms:
I recommend Keychain Supply for all of your crafting keyring, charms, and birthstone needs! Link to their Etsy shop here:

KeychainSupply

For Stainless Steel blanks:

I use all of the 22g, standard stainless steel from

StampingBlanks.com

and highly recommend this metal as a shiny, silver alternative. Be advised, to use stainless steel as your stamping blanks, you will need to have a solid base/stamping post and heavier mallet, which will require you to have different stamping supplies. Please watch my

stainless steel stamping video here.
For Aluminum blanks & Cuffs:

Any aluminum on this site, in the form of Cuffs, is from

Optimal Alloys.

Any aluminum blank, especially the super adorable shapes, is from

Birds Eye Blanks.

We highly recommend getting the "polished" or "tumbled" blanks from these sites -- the reflection in the metal makes it much easier to see where you are stamping.
Our font metal stamps are programmed to be as close to the original typeset fonts as possible, although there may be slight variations from typeset to actual stamp based on a variety of programming and stamping needs. Please use the actual stamped images provided on our site and in each listing to see the stamped version.
The bigger and more detailed the design, the more difficult to stamp.
While our large, 12mm designs (also called Fat Bottom Shanks, or FBS) are RATED for steel, some very detailed FBS images are SUPER large, and some stainless steel stampers with lightweight hammers may find these large, detailed stamps very difficult to hammer in stainless steel and get a full impression.
Every image on this site that is hammered in stainless steel was hammered with a 2lb mallet, on a stamping post with no buffer between the anvil and the post. No sandbag, no pad, just the anvil on a solid stamping post going straight to the floor. No press here. Still having a tough time?
Try these two resource videos:
Our Blog section of the site has everything you need to know.
But here it is again, just to save you a few more clicks :)
All Font Fixation brand stamps are manufactured to be used on all metals. The product and listing photos on this website are primarily on 22g stainless steel from www.stampingblanks.com
Some metals are harder than others, for example butter or steak knives, and we do not recommend use on steel of this hardness level.
Our stamps are covered under warranty for 1 year from date of purchase and covers the original purchaser. Stamps purchased from "destash" or "second-hand" groups are

not covered under warranty.
"Simple Dimple" stamps are manufactured on 1/4" shanks and are made to fit in most ring jigs. Simple Dimple designs usually fit on 1/4" wide cuffs, because all Simple Dimple design stamps are .5mm-5.5mm, and 1/4" cuffs are 6mm wide.
"Hefty Hitter" stamps are manufactured on 3/8" shanks.
"Fat Bottom Shanks" are stamps that are manufactured on 1/2" shanks. While these size design stamps are rated for stainless steel use, some of these designs are quite detailed and may require the "tilt-and-tap" method to get a full, solid impression. We always recommend using a solid surface that has force transferred directly to the floor (such as a stamping post), using a 2lb steel mallet, and not having any sandbag or such force deadening agent under your anvil. For more information on how to get better impressions, please see our YouTube video "Is My Stamp Defective".
Best impressions for larger and more detailed stamps are always in softer metals, like aluminum, brass, copper, pewter, and nugold. If you are a seasoned and skilled stainless steel stamper, you should have little-to-no difficulty with our larger/more detailed stamps in stainless steel. If you are a beginner stamper, we recommend you start with softer metals like those listed above, and as your skill level increases it should be easier to transition to stainless steel.
Want to see more examples or get tips on stamping? Request to join our Facebook group, "Font Fixation's Fabulous Friends" at

www.facebook.com/groups/FontFixation

-- Answer the three questions and we'll get you in the group!
If you have an error or defect in your stamp, please email

FontFixation@gmail.com

to get your stamp replaced under warranty, or for instructions on how to purchase a new individual stamp if out of warranty.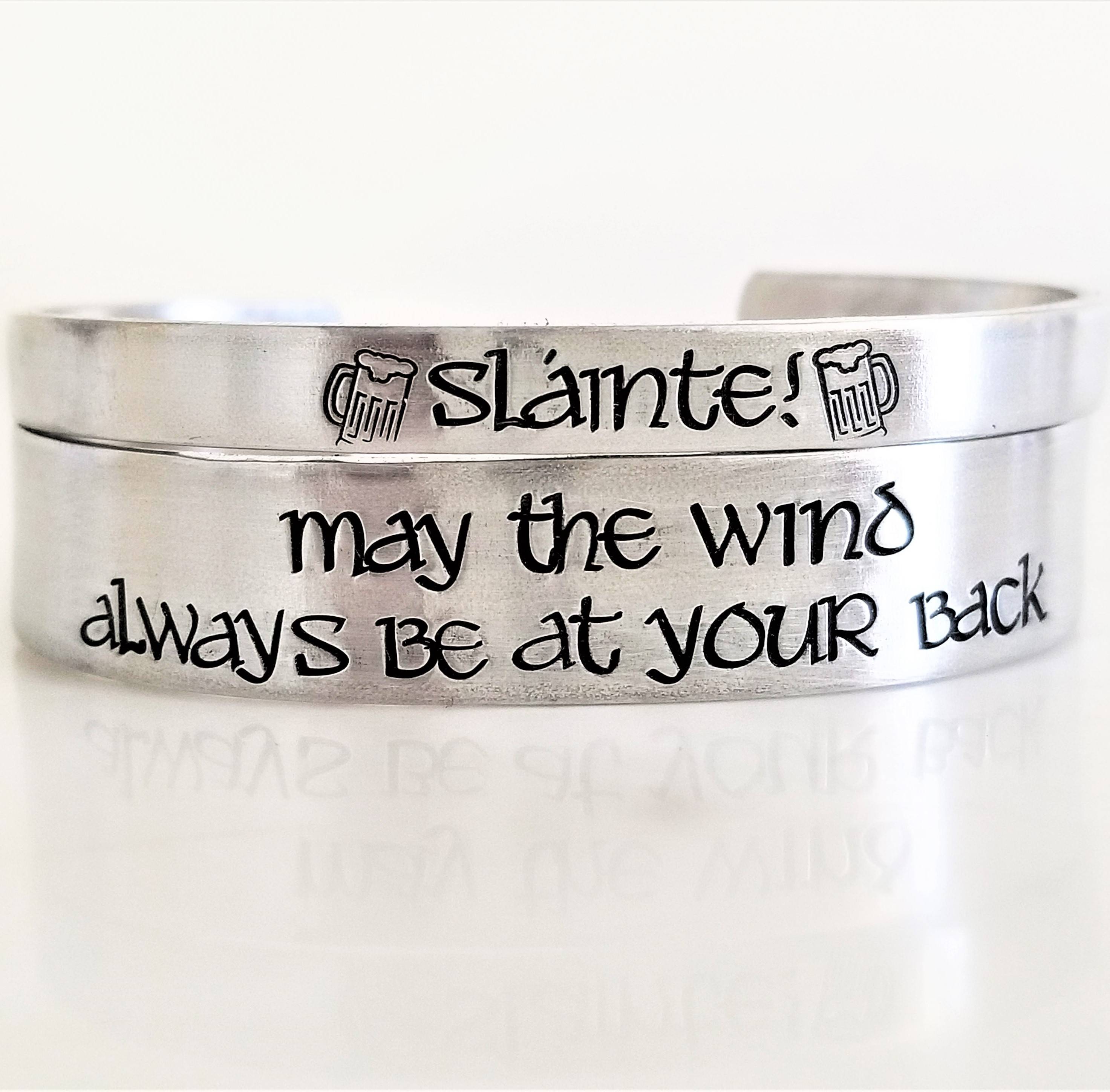 Top: 1/4" aluminum cuff
Bottom: 1/2" aluminum cuff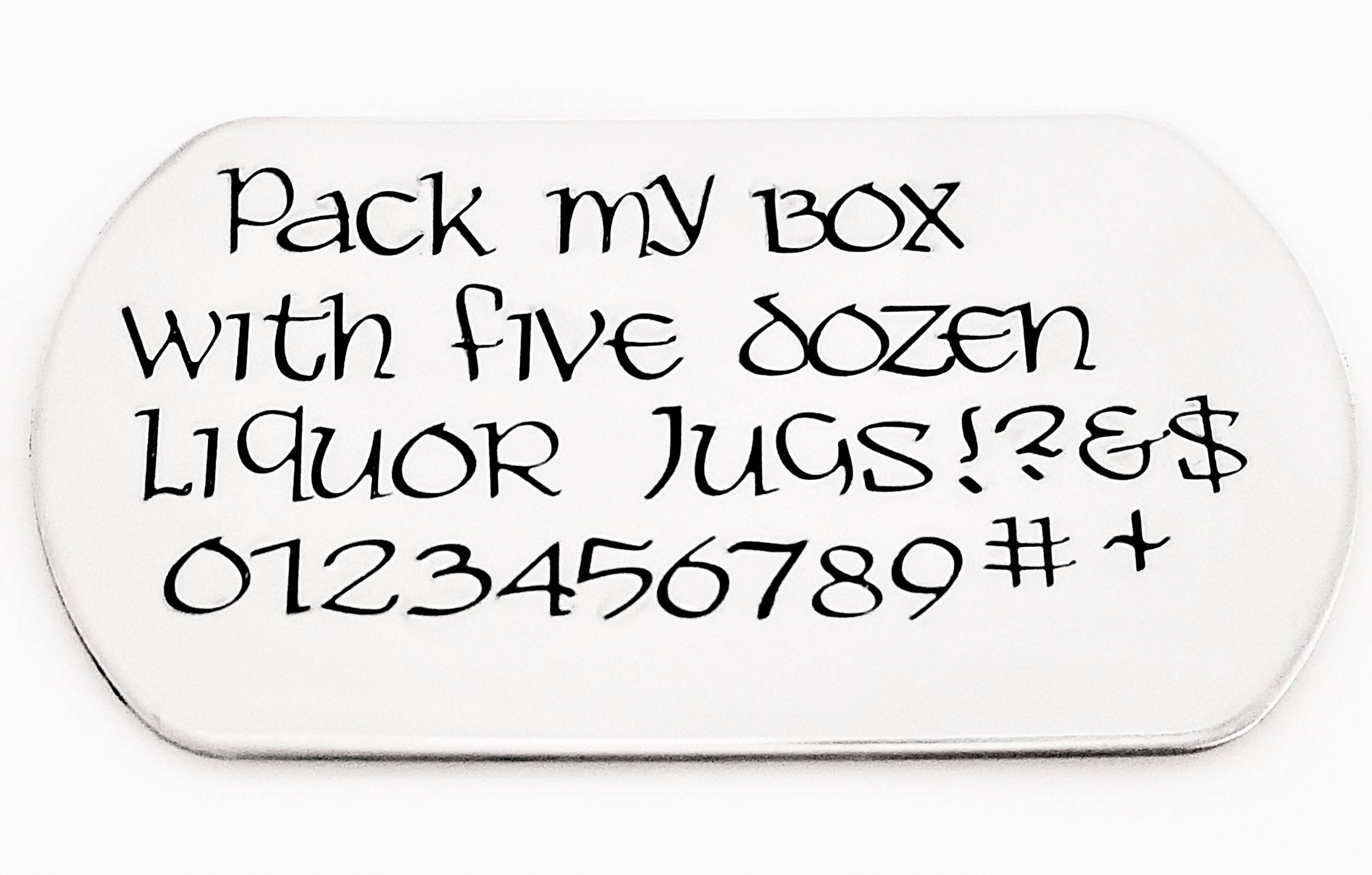 Standard size stainless steel dog tag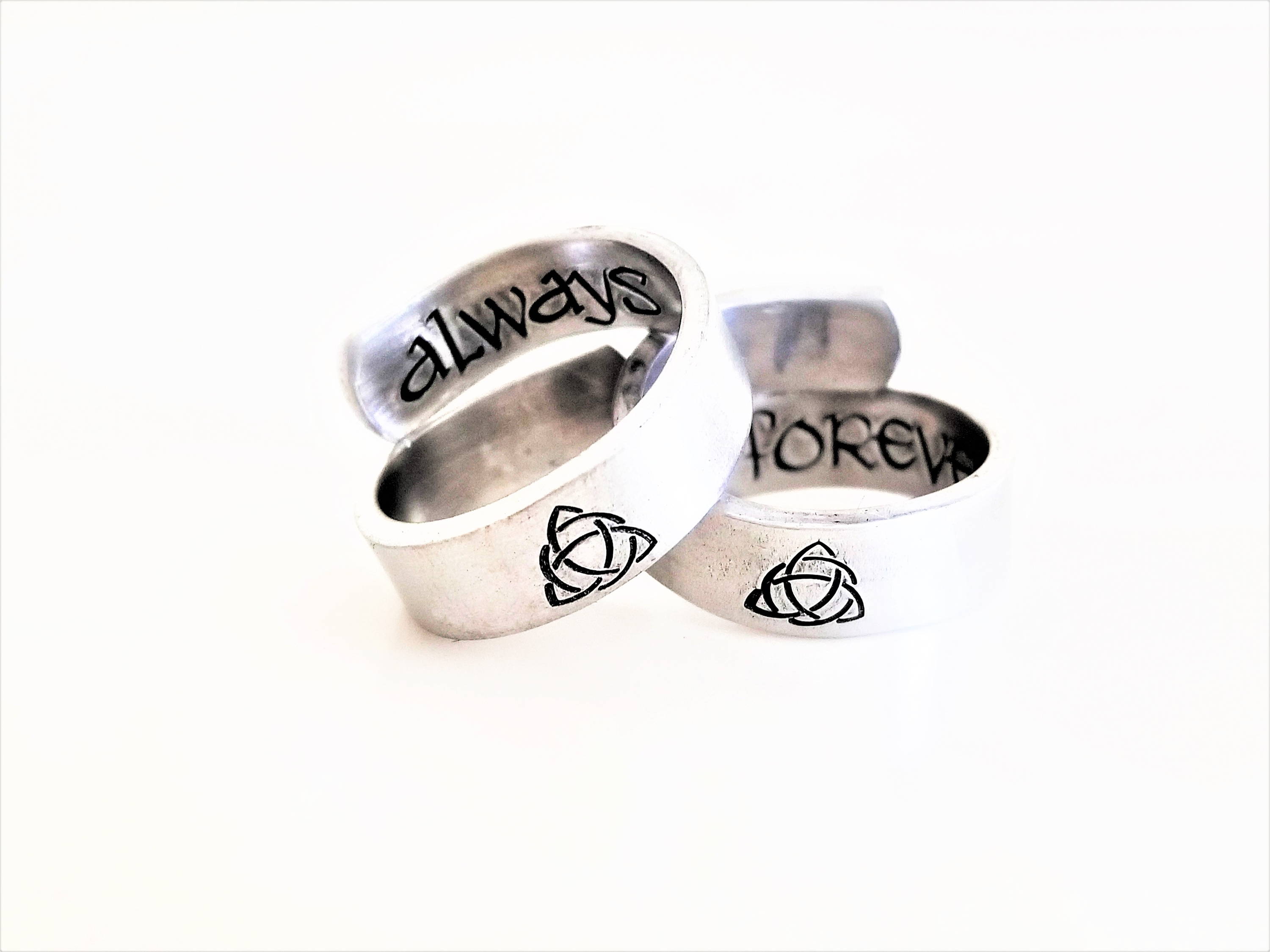 1/4" wide aluminum ring blanks
There is no related products to display.